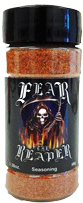 100% GHOST!
This seasoning was developed with the ultimate heat seeker in mind. It is purely 100% Ghost with a little seasoning, yet it will make all your dishes, 'holy' delicious!

Ghost Pepper powder with sea salt, onion and garlic.

FEEL THE STING!!
Made with the Trinidad Scorpion pepper this versatile seasoning is the perfect blend of scorching heat and amazing flavor.
Mediterranean Sea Salt, Hungarian Paprika, Ground Scorpion Peppers, sweet Onion, Garlic, Spices
FEAR THE REAPER
Made with the world's hottest pepper, the "Carolina Reaper", this unique seasoning boasts a heat level of over 1,000,000 SHU! Use it to add flavor and fire to any meal!
Mediterranean Sea Salt, Hungarian Paprika, ground Carolina Reaper Peppers, Sweet Onion, Garlic, spices.
DEVILISHLY DELICIOUS!!!
This seasoning is made with the Red Savina habanero, which has an amazing aroma and a delicious flavor which deliver a taste sensation that is sure to please the palette, with a heat level that isn't overwhelming. Suggested uses: eggs, corn on the cob, popcorn, mac and cheese, chicken fingers - pretty much anything you are cooking up!

Sea salt, paprika, dried onion, ground Red Savina habanero peppers, dried garlic, and other spices you can't know about...